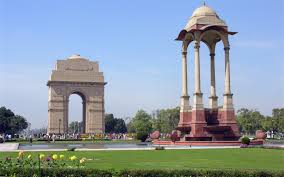 Delhi - the capital of India! Heavy traffic to old-world charm, traditional 'salwar kameez' to denim shorts, forts and monuments to modern hi-tech skyscrapers, Delhi is a combination of both old and new generation. Free Delhi tour takes you to the world where the ancient and modern age corresponds hand in hand. As you set your foot to free day tours in Delhi, you will observe the rich and multicolour culture, ancient structure, modern outlook, mouth-watering street food. For a quick trip to Delhi, book free day tours in Delhi. India tours will be considered incomplete without visiting the capital state of Delhi.

Tour to Multi Cuisines
A free day tour to Delhi is a delight to all the food lovers. As a traveller you will love every dish from continental to customary cuisines, from lavish restaurants to spicy street foods - Delhi is a place you will find all the varieties of delicious recipes. Few varieties that you will find in different eateries in the state are Makki ki rotis, Sarson ka saag, South Indian food, Fast-Food, Bar-be-cued sizzlers, Continental, Mughlai, Variety of Salads, Turkish delights, Kashmiri Delicacies, Chinese, Tibetan food, dishes from Japan and more. Add extra flavour to your amazing free day Delhi Tour.

Itineraries provided in free day tours in Delhi

It starts at the eastern (Red Fort) end of Chandni Chowk the Point of Interest is:-

• Gauri Shankar Temple
• Jalebiwala
• Kinari Bazaar (the decorative market for gift packing and god and goddess dress and decorative festival material)
• Paratha Wali Gali (enjoy the enjoyable paranthas of India
• Sisganj Gurdwara,(Sikh temple)
• Spice market

Accommodation in Delhi
Delhi attracts various tourists from all across the world to show the glory of ancient India. Many hotels and resorts are there for the tourists. There are many budget hotels, luxury hotels, three-star hotels, five-star hotels and resorts in Delhi that provides the best quality and homely stay to the visitors. Hotels in Delhi welcome the traveller and offer an enticing experience. Luxury hotels in Delhi give the perfect destination for foreigners looking for elite Delhi hotels.

Role of travel agents
Travel agents, whether local travel agent, tour operator or destination specialist, still possess contacts that you as an outsider, do not have. They whether in a shopping centre near your home or an online agency, do know something you do not, have a way to book and arrange travel for you in ways unavailable or unknown to you.

How to book a free day tour in Delhi?
Generally, you could contact a travel agent and ask for a quote, whether the package includes the price for itineraries or not. Travel agents provide that kind of information readily available to them.

The reputed travel agents will be happy to provide the price information to you instantly when asked. But once your travel request needs to be somewhat tailored, whether tailored to your dates of travel or your other travel choices, to find a relevant answer will be time-consuming.

Due to this time element involved, an agency can offer all itineraries you need in the one-day free tour, setting you free of tensions. Book tour package and be ready for a soul-soothing travel experience.