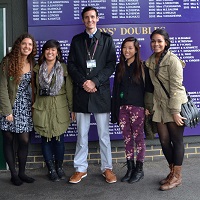 Have you ever been on a trip with travel guides? Everyone should hire their services at least once especially on their foreign trips. Traveling to far-off places engages you in watching every new thing in the surrounding and enjoying the customs to foods to landmarks. Though you may prefer the option of exploring everything on our own most people prefer guided tours so that they have someone to arrange their bearings.

An organized trip arranged by the tour guide services in New Delhi offers their clients numerous benefits. Does not matter if you are traveling alone or in a group, you will remember the experience for long. Why? Read below.

1. Organization
A travel agency handles the entire organization and makes its preparation for visiting the major landmarks in the location. If you go for planning a trip on your own, you would need to put your time and energy into these things so that you do not miss out on anything on your visit. On the other hand, a tour guide prepares a comfortable and effective schedule for visiting separate locations so that all the places can be covered by their clients between the tour times. He will arrange the transportations too. So, what your responsibility rests is to enjoy the trip. That's all!

2. Safety and Comfort
Visiting a location for the first time especially abroad cities can make you nervous as you know almost nothing about the culture and trends of the place. You may be aware of the places you can go (obviously you have done some workouts on the internet before your visit, right?) but maybe you do not know how to act there. The main discomfort can come with communicating in the local language. This is a huge comfort with a guided tour as your tour guide is familiar with the local culture of the city. He also knows the place well. So, he can guide you about where not to go due to safety issues.

3. Insider Knowledge
Travel guide services in New Delhi are specialized in arranging frequent domestic or foreign tours and they hire locales to guide their clients. This way your 'local' tour guide is able to offer you inside knowledge of that particular place which you may lack. Highlights of the place will allow you to uncover some exciting and uncommon locations and things to do. Local guides can share their stories with you which will enhance your knowledge about the location. Travel agencies often do so to encourage their clients to visit the place another time for another purpose!

4. Socialization
When you are traveling in a group, you are opening a social aspect to the tour. You will get chances to meet people whom you do not know. So, be ready to explore new places with new people and to share your reactions with them! Who says, you may get a life long relationship from such a trip!

Exploring new is good. Do it safely with travel guides. Enjoy!
This entry was posted on December, 23, 2019 at 13 : 23 pm and is filed under Tour Travel. You can follow any responses to this entry through the RSS 2.0 feed. You can leave a response from your own site.