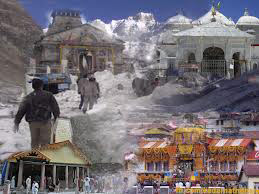 A religious journey towards self-realization and eternal bliss is Char Dham Yatra. It is one of the renowned pilgrimage tours of four of the most influential places of God. Char Dham, being the holiest of Hindu Pilgrimages, allures lots of sacred tourists every year.
The pilgrimage is a tour of four dwellings of the God placed in the Indian valleys of Himalayas namely,

• Gangotri,
• Yamunotri,
• Kedarnath and
• Badrinath

As you book Char Dham Yatra packages you will be heading towards the following destinations:
• Gangotri: A town in Uttarakhand, Gangotri is situated at an elevation of 3100 m on the Great Himalayan Ranges. This soulful and tranquil pilgrimage town is situated on the banks of holy River Bhagirathi. This place is known as the origin of River Ganges. One of the significant destinations of Char Dham Yatra Gangotri is where River Ganges is worshipped at the holy Gangotri Temple.

• Yamunotri: according to the mythologies Yamunotri is the place of Goddess Yamuna as well as the source of river Yamuna in Garhwal Himalayas. Situated on a hill at the altitude of 3293 m, Yamunotri is on the side of Bandar Poonch Parvat. The temple of Goddess Yamuna along with the sacred thermal springs at Janki Chatti is the main attractions of this place. The temple of Yamunotri is on the left bank of sacred River Yamuna with the idol of living god built of black marble.

• Badrinath: A holy town for Hindu and Jain religion, Badrinath is situated in the Chamoli district of the state of Uttarakhand. Considered the most significant of Char Dham Yatra, Badrinath is where Adinath, the first Tirthankar of Jains is worshiped as Lord Badrinath for over thousands of years now. This place is a fine example of communal harmony where Hindus and Jain religion followers together worship the Almighty.

• Kedarnath: Fourth of the sacred city, Kedarnath is in Uttarakhand. It is the most remote of all the four dhams in this tour. This pilgrimage site is sanctified with beauty and tranquility of great Himalayas. Enthralling snow-capped mountains and tough weather conditions mark your visit to this holy shrine a taxing journey. Hitherto the sincere devotees take up this pilgrimage with great enthusiasm every year.
After you book char Dham yatra tour package online you will be getting the following benefits:
To make the yatra successful, it becomes imperative to book accommodation in advance.

There are numerous tour and travel experts that can offer you with the best and affordable deals over the Char Dham Yatra tour package. The package can offer you everything you need in your visit to the location like
• Accommodation,
• Food,
• Safety measures and
• Transportation facilities etc

You can easily book the package according to the amenities you desire to include. Also, the tour package can easily be customized as per your preferential needs. The yatra package will give you the benefit of attaining a stress-free journey with the blissful memories.

Check for the operations with the following features:
• Provide wide varieties of packages
• Possess Prior experience in the industry
• Offer maximum services within an affordable budget
• Provides travel insurance
• Takes care of customization